We love to remind everyone how 'Preparation is Everything' when it comes to selling your home. Without investing a ton of money we can make a huge impact on your sale price with some planning and hard work. The truth is, not every home needs things updated,  professional stagers, etc to get the house ready to market. But, it is rare that we find one that couldn't use a little help in one very important area.  
One of our trusted designers who helps our team consult at listing appointments to get a solid plan in place always said something that stuck with me. When walking through a home, and beginning to give some feedback she always reminded future sellers that if they were considering a move then packing was in their near future; her job  was to help them 'pack up early'.  Selling a house can be a stressful and overwhelming process, and one of the most important steps in preparing your home for sale is decluttering, or 'packing up early'. A cluttered home can turn off potential buyers, and tends to hide some of the features we'd like to highlight in your home.  Here are some tips on how to declutter your home in order to sell it.
Start with a plan
Before you start decluttering, it's important to create a plan. Go through your home room by room and make a list of everything that needs to be decluttered. This will help you stay focused and organized throughout the process. Make sure to prioritize the rooms that potential buyers will spend the most time in, such as the living room, kitchen, and primary bedroom. 
Remove Personal Items
Buyers want to be able to envision their lives in what could be their potential new home.  Photos and personal items can cloud that vision.  Start with all personal photos whether they're hanging on a wall or in a frame on your bed stand.
Remove Unnecessary Items
When it comes to deciding what to keep, think about what potential buyers will want to see. They will want to see a clean, organized home that feels spacious and welcoming. This means that you should prioritize keeping items that are functional and add value to your home, such as furniture, appliances, and decor that match the style of your home.  Clear countertops in the kitchens and the bathrooms.  You may think they feel 'empty' but that's just what potential buyers are looking for. 
Get Rid of Excess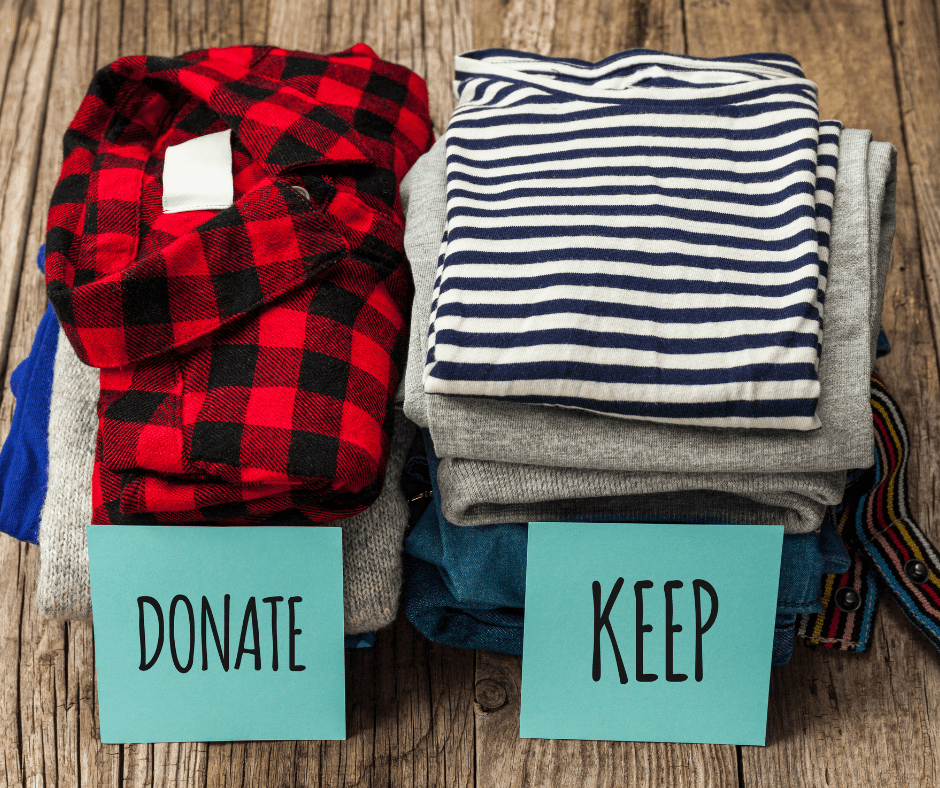 In the spirit of 'pack up early', if you know there are items you won't take to the next property this is the perfect time to find them a new home. Donate or sell items that are in good condition but no longer serve a purpose for you. Consider hosting a yard sale or listing items for sale online to make some extra cash.
For items that are no longer usable or in good condition, dispose of them responsibly. This could mean recycling, throwing them away, or arranging for a junk removal service.
Organize What's Left
After decluttering and getting rid of excess, it's time to organize what's left. Store items in a way that makes sense and keeps your home looking clean and spacious. Use storage bins and containers to keep items organized and out of sight. Make sure to declutter your closets and cabinets as well, as potential buyers will want to see ample storage space, and YES they may open closet doors.
Hire a Professional
If decluttering feels overwhelming or you simply don't have the time to do it yourself, consider hiring a professional. A professional organizer can help you create a plan and execute it efficiently. They can also provide tips and tricks for keeping your home organized and clutter-free in the future.
Decluttering is an essential part of preparing your home for sale. The Lockyer & Lotz team is happy to help you through this process regardless of what your timing looks like even if you're a few years away from selling your home.