Niagara's real estate market sparking back to life this spring
After sharply rising interest rates over the past year produced their desired outcome, acting like a fire extinguisher on a blazing market, Niagara area real estate buyers are becoming accustomed to increasingly balanced market conditions. Fixed-term mortgage rates have even come down a bit recently and those who sat out the fall and early winter market are suddenly back and in some cases even ready to compete.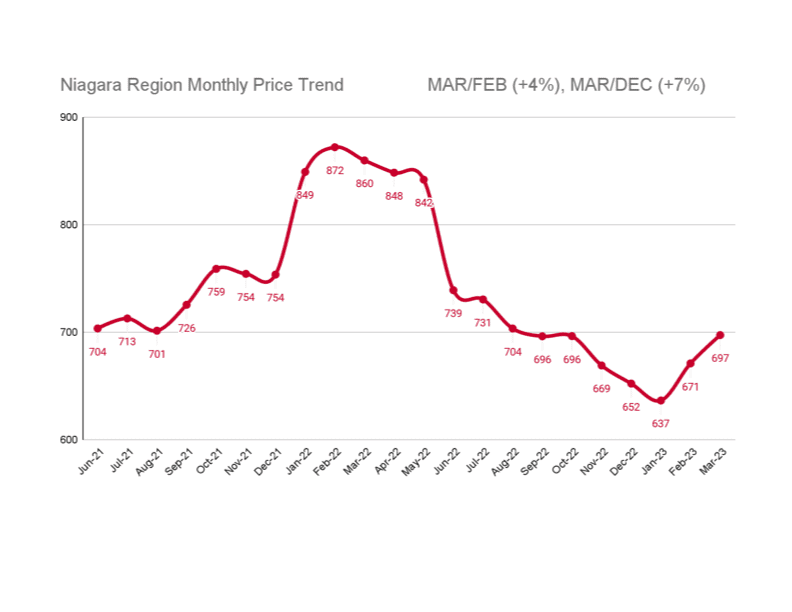 Looking at the numbers, it's clear that the dramatic upsurge created by the Pandemic has corrected when considering that unit sales in March dropped 32.5 percent compared with March from a year ago (According to stats from the Niagara Association of Realtors). Plus, the MLS® Home Price Index, a stat which tracks the sale of homes between the age of 51 to 99 with three bedrooms and two bathrooms, has fallen 21.8 per cent in March compared with the same month last year. Nevertheless, it's also evident that house prices have finally begun to stabilize and even rebound, for the third month in a row both listings and sale prices are up. Home Sellers who understand the reality that it's no longer 2022 will therefore do quite well in a recovering market.
That's what we're seeing on the ground. Where there is competition and even a few bidding wars, most of it is taking place in the segment between $500,000 and $650,000, the popular price range for first time buyers. Demand also continues to surge for homes that lend themselves more easily to multi-generational living, ie. those characterized by in-law suites on the lower level.
But even with multiple bids, the action is not nearly approaching the frenzy or crazy prices we had at this time last year, a situation which is finally beneficial for Buyers. In fact, Buyers have once again been "afforded the luxury" of being able to submit fairly reasonable offers. A few examples to illustrate the current market:
In the North End of St. Catharines, a three-bedroom raised bungalow at 8 Kennedy Avenue was recently listed with an asking price of $649,900 and sold for $691,200 with 8 offers. Another recent listing of a three-bedroom bungalow house in the South End of St. Catharines at 107 Lockhart Drive saw three bidders come to the table. Surprisingly, none of the offers exceeded the asking price of the home.
To sum up, informed Sellers are learning to temper expectations while Buyers tread gingerly and continue to look for stronger signals that we've really hit the bottom with prices.
So, if you're currently approaching a life transition where it's time to move up, downsize or even purchase your first home, feel free to reach out. Whatever your next step in the journey, any member of the Lockyer & Lotz Real Estate Team would count it a privilege to come alongside you and get the real estate conversation started.