Bidding wars & Niagara
The January sale of an 850 square foot Burleigh Hill bungalow for a couple hundred grand over list price marked yet another milestone in the unpleasantness which is the current St. Catharines, Niagara real estate market.  I was part of what seemed like a well managed stampede of  Realtors, both local along with those who are helping facilitate the mass urban exodus from the GTA.
We had the "privilege" of showing this completely charming, but realistically unattainable property to our prospective Buyers over the course of a six day marketing period.  Once the house was sold, the Seller's agent sincerely thanked us for the strong support of her listing, and then proceeded to release her casualty figures from the latest skirmish;  it had produced a mind-blowing 145 showings and 35 offers. With the dust having settled,  we the stunned participants steeled ourselves and prepared to move on.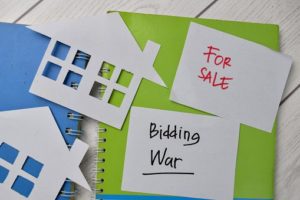 When there's a dearth of houses, or more accurately a ridiculously high level of interest as severe as at the present, the listing strategy of the hour, is one which intentionally sets the price slightly below market value and then graciously refuses to consider proposals for a set period (usually close to a week). While technically the phrase "multiple offers" is more precise than the so-called bidding war the outcome is largely the same, namely soaring prices.
Basically, it comes down to numbers – get 100 people into a home, and you'll have a higher chance of eliciting offers and maybe a sale for much more than the house is worth.
Some have accused Realtors of playing games when listing in this manner rather than simply selling on the basis of "first come, first served". But why blame the Agent for pulling out all of the stops in the pursuit of what most of our clients want most; that is, top dollar for their house. I've been there too as a Seller and I'm no different; guilty as charged.
Ask any Realtor though and it's unanimous; we could all quite happily do without the circus.
The truth about bidding wars
So what's the real deal about bidding wars?  What is fundamentally clear is that the strain on Buyers is phenomenal. 
Start with the fact that showings are curtailed in some cases to 30 or even 15 minutes. Some folks will probably spend more time choosing their watermelon at Costco than the precious moment they're afforded to make what amounts to the purchase of a lifetime. 
Plus, the pressure to make "cash offers" has never been greater. In the fairly recent past, inserting due diligence clauses such as financing or inspection in the contract was regarded as essential to mitigating risk; these days, writing in any of these contingencies is also the likeliest way for your offer to end up in the shredder.
The tension is also heightened by the fact that buyers are mostly negotiating in the dark since bidding wars are conducted as 'blind auctions' in Canada. This means that the Seller's agent is not allowed to share with the agent representing Buyers the details of any of the other offers, other than how many offers they have received. 
During the run-up to the last election, the Liberals campaigned on a promise of introducing a Home Buyer's Bill of Rights, which among other things, pledged to forbid the blind bidding process.  It remains to be seen whether this ban will be implemented and how it will affect home prices; regardless, we're not there yet.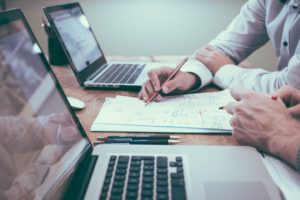 The offer presentation
Although every situation is different, here's what typically happens inside the offer room.  For this example, let's assume there are ten. 
Most of the offers which agents receive are nowhere near what the home actually ends up selling for. Five or six of them will have been written without "a hope or a prayer" of being accepted, even though they may actually be above the asking price. Two or three will be closer but not quite there. Finally, there's often that absurd outlier that comes in seconds before the presentation. It's the " big number" that Sellers covet and not only blows the competition out of the water, but also sets the neighbours buzzing. 
So, what may look like a war between a large number of people may in fact be between only a few Buyers who have actually made offers that are competitive enough.
As a Buyer agent, I used to worry most about advising my clients against overpaying. Equally important now is ensuring that we do a reality check before even making the offer.  False hope is as much of an issue in this market as paying too much, as it perpetuates much of the inefficiency and frustration clients are experiencing. In the pursuit of the dream house, there's certainly no harm in deciding simply to "sit this one out" while awaiting the next opportunity.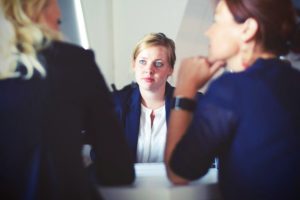 A better way to play
Naturally, as agents our hearts do go out to the Buyers, so if you are one it's important to note that there are lots of ways to play.  Here are a few ideas:
Forget about the asking price.  Understand the market and the true value of the home while recognizing that the list price is largely irrelevant.  A detailed Comparative Market Analysis (CMA) from your Agent is important, but ultimately what someone is willing to pay is the only thing that matters.

Pros & cons of "The Letter". Any number of Buyers I speak to believe that bidding war success ultimately hinges on their ability to successfully pull on the heart strings of the Seller with a carefully crafted cover letter. In my experience, these do indeed make a difference, but be careful; that letter can also become a double edged sword if you unwittingly make assumptions that make a Seller uncomfortable.
Be ready with a deposit.  Having a picture of a certified cheque can give a Buyer a small advantage and at the very least show that you are prepared. An organized agent & buyer are attractive to a seller.

Mindset is crucial. Discussing the process before, during, and after is a good way to manage the stress of the process. Control what you can control and try not to get emotionally attached (I know, that is so much easier said than done:).
Bidding wars are certainly not for the faint of heart and logically we understand that they can't last forever, so there's that. It's also important to know that besides dollars and good fortune, based on what I've seen, Providence also has a role to play.  That's why it's so important to hunker down and stay positive in this season as we ALL hope for a return to more predictable days.